by Tammy Taylor~
*affiliate link
I've written before about repurposing those handy empty coffee canisters to a new life.  They've been used in my garden to simplify chores, and I've painted them & planted in them for my patio.  And those painted canisters make a cute presentation when I want to share plants with friends too.  But recently I had a foodsy-type repurpose I wanted to do with them.
Since I would be using them for storing food I didn't want to paint the canister.  I dunno, it's probably fine, but I worried about whether with repeated use the paint might fleck off or even get mixed in with our food.  For whatever reason, I wanted to leave the canister unpainted.  But removing the print proved to be more difficult than I thought.  Scrubbing the canister, using nail polish remover, paint thinner – even a straight-edge blade wouldn't remove that print!  Hummmm…  this is going to take a little more investigation…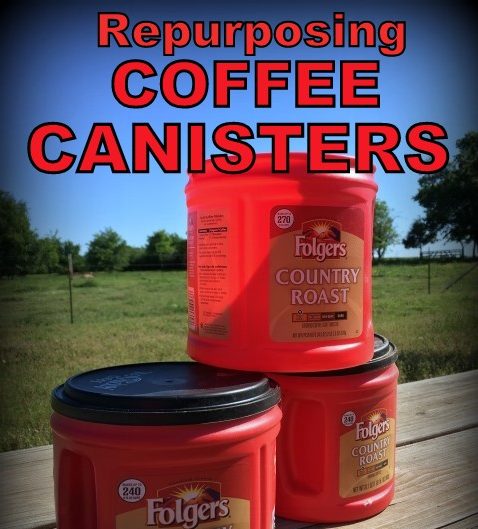 This post may contain affiliate links (marked with *) If you decide to make a purchase through one of the links contained in this post I may receive a commission. But the price you pay will NOT be changed.  It's an easy way to support this blog without anything coming out of your pocket.  So if you're interested in buying something, don't be shy – click away! You can read my entire affiliate disclosure under the 'Legal' tab above.

As I was using a straight-edge razor blade to attempt to scrape off the writing I noticed a curious thing.  The color of the writing was staying, but I was scraping away a clear coating over the print.  Aaaaahhhh…    Sneaky, Folgers!  So that's why my efforts to remove your marketing weren't working!  My first line of defense was to remove that clear coating so the advertising-printed surface could be exposed.  This was actually the easiest step of all.  The razor was simply used to scrape the entire surface of the printed area.
Now that my advertising print area is exposed, let's see how to get that print off.  A rag dotted with nail polish remover followed by vigorous scrubbing was only moderately successful at removing the print.  Dang, this is going to take all day!  What have I signed up for, here?  Sheesh!
So I placed an old rag over the printed area and saturated it with nail polish remover.  I allowed that saturated rag to sit and do it's thing for a few minutes before attempting again.  This time it was more successful.  The print was softened and the razor was able to scrape it off much better. It still took quite a bit of doin' to get all the print removed.
But even then it still didn't leave a clean surface.  Now there was a gooey semi-colored layer remaining that the nail polish remover just wasn't taking off.  (shakes fist in the air)  Dang Folders, what are you doing to me here??!!
Hearing my frustration, RancherMan came over to investigate.  He mentioned that Goo-Gone is supposed to be good at removing sticky residues.  Alrighty then, let's give that a try.  I mean, I'm already pretty time-invested here #aminot? A little goo-gone sprayed on the surface and allowed to sit for a minute or so followed by a vigorous rubbing finally garnered success!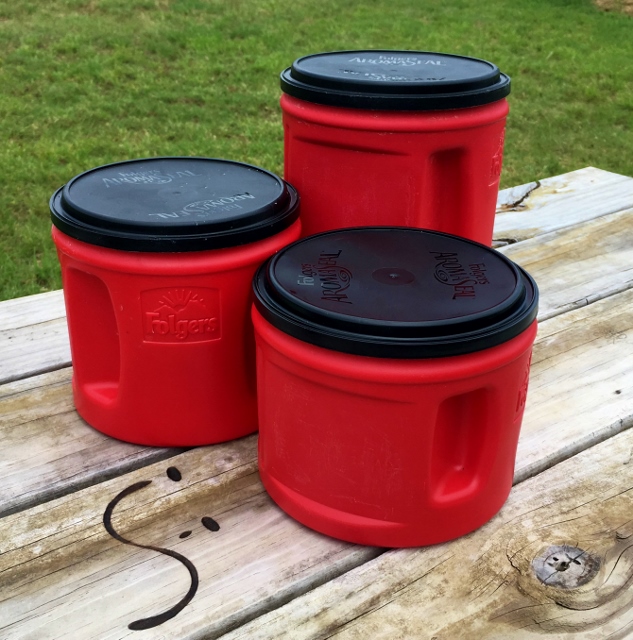 In the end, removing the print from that coffee canister was more time consuming than I thought it would be.  It required a three-pronged approach.  I first had to scrape away the clear coating to expose the painted surface.  Then I needed to soak to soften that print using a rag saturated with nail polish remover.  Finally, *Goo-Gone was needed to remove the residue.
After those three steps I brought my canister into the house and wet it down with my spray bottle of grease-cutting soap cleaner.  Then I sprinkled the surface with baking soda using my repurposed shaker  that I keep under the sink.  My homemade pot scrubber gave a thorough cleaning followed by a quick rinse.  Finally, all done!
Although removing the paint took some time & elbow grease, I'm really glad I did it for my next projects.  Stay tuned, I'll be making a simple, vintage-look bread box as well as a flour canister for my kitchen.  I'll be sure to share when those projects are complete, but I'm loving it so far!
~TxH~
C'mon by & sit a spell!  Come hang out at our ~TMH~ Facebook Page . It's like sitting in a front porch rocker with a glass of cold iced tea.  There are lots of good folks sharing!  And you can also follow along on Pinterest, Twitter or

GooglePlus

.
If you'd like to receive an email when a new blog post goes live,
*Amazon affiliate
Save
Save
Save
Save
Save
Save
Save
Save
Save