by Tammy Taylor~
*contains affiliate link
So y'all know RancherMan & I are coffee drinkers.  You know, like in "Stay away until I've had my coffee" kinda coffee drinkers.  Having a 'Skip Coffee Day' is never an option, so don't even ask.  But we don't want sweetsy, foamy flavored, overly-sugared drinks.  We want coffee.  Strong, black, delicious.  We prefer Folders coffee in the Taylor Household.  That plastic canister it's sold in comes in handy for many uses when it's empty.  We store chicken feed and dog food in them.  And RancherMan uses them in the shop to gather bolts & hardware together.  And I've even spray painted them and used them for sharing plants from my garden with friends.  But I still need to put them to use.  Our coffee consumption goes on, ya know??  So here's another simple way those empty canisters still help me out.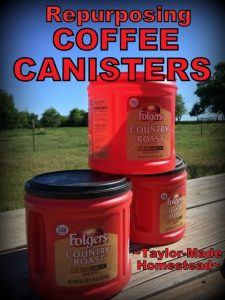 As most gardeners do, I go to the garden every day to look for anything needing to be harvested.  I also check soil moisture and scout for weeds.  You know how it is – if you tackle that weed today when it's small it's no big deal.  If you wait until tomorrow it will have grown to twice the size and have fangs and green eyes, ready to destroy you.  No??  Just me?  I know weeds are easier to eradicate if you tackle them early.  So I spend a couple of minutes every day weeding the garden rows.  Because I weed so often, the weeds are always tiny with a small root system.  It makes them much easier to pull up root & all.
But I used to pull the weed, shake the dirt from the roots and toss it aside right there in my planting row.  I figured that as the small grassy weed dried up it would cover the soil.  Weeding every day means over time I may have a light layer of dried tiny grassy cast-offs to shade the soil.  Sounds really good in theory, doesn't it?  Yeah, that's the way it always sounds.
But what I found is that if that tiny weed's shaken-bare root even smelled soil, it would dip its little rooty toe into the soil and just take off again.  Now I don't like weeding, so you know I really don't like weeding twice for the same dang weed!  So I began gathering up the weeds I'd pulled, marching them to the garden gate & tossing them into the pasture.
But now I use a repurposed coffee canister to help simplify my daily weeding.  I keep a spare plastic coffee canister in my garden and when I go down the rows pulling those small weeds I bring the canister with me.  I drop the grassy weeds into the canister and when I'm done I snap the lid back on.   When the can's full I toss the contents into my *tumbling composter.  Since I'm pulling them young, there are no seeds on my weeds so it actually benefits my compost by adding  to my 'greens' balance.
So there ya go, another easy way to repurpose coffee canisters.  In the future I may spray paint my garden-weed holder some color other than bright red so it's a little more subtle in my garden.  In any event, it's repurposing and it's saved me much weed-pulling effort.  And you know I love that!
How's your favorite way to repurpose those great canisters?
~TMH~
C'mon by & sit a spell!  Come hang out at our ~TMH~ Facebook Page . It's like sitting in a front porch rocker with a glass of cold iced tea.  There are lots of good folks sharing!  And you can also follow along on Pinterest, Twitter or

GooglePlus

.
If you'd like to receive an email when a new blog post goes live,
* Amazon affiliate
Save